A new band with original compositions, fresh songs and danceable beats.
Hi, we're Sunny Day Jay, a new band from Amsterdam. We've been around since 2022. Chasing a new sound, where shoegaze guitars mingle with electronic beats and a torch singer. Music to dream to, to march in protest to or to lose yourself to. We enhance colors from deep black to a myriad of rainbow shades.
Sunny Day
(lead singer) was born in Zimbabwe and grew up in Zambia, under African skies. As a young child she was singing all the time, so much that her schoolteacher locked her up in a barn, away from the other kids, because she was disturbing the class.
Moving to the Netherlands at the age of eight, meant losing her home, her roots and her African childhood friends. Uprooted and lost, she became shy and silent. As an adolescent she struggled with depression, lost her voice and stopped talking. Listening to Janis Ian, Leonard Cohen, Marc Almond, Lou Reed, Aretha Franklin, Nina Simone and Barbra Streisand.
She went on to study visual arts and became a writer-director and multidisciplinary artist. Stimulated by a coach who helped her to find herself, Sunny Day took singing lessons to reconnect with her voice again. It's been a long journey to accept her calling to sing and let her voice go out into the world. So that's what's happening now. Having kept diaries and having written poems and texts from the age of seventeen onwards, there's a rich source of material waiting to be turned into song and music.
Creating SUNNYDAYJAY together with instrumentalist Jay, is a collective step towards song writing, composing, performing and producing a new kind of music and sound.
Sunny Day has a wide vocal range, comprising nearly four octaves. She experiences her voice as gender fluid, male, female, and everything in between. She likes to paint with sound and manoeuvre across different styles and genres, from pop to ballad to jazz to opera. She admires artists with a personal voice and music, who have a strong yet vulnerable stage presence, who express universal emotions related to the wide range of issues we have to deal with during our human existence.
'The voice is a never-ending sculpture, a perpetuum mobile, in constant transformation towards something different and new, ephemeral and impossible to comprehend or hold on to. Music is universal. It touches our heart and soul beyond the beyond. And represents all of it at the same time.'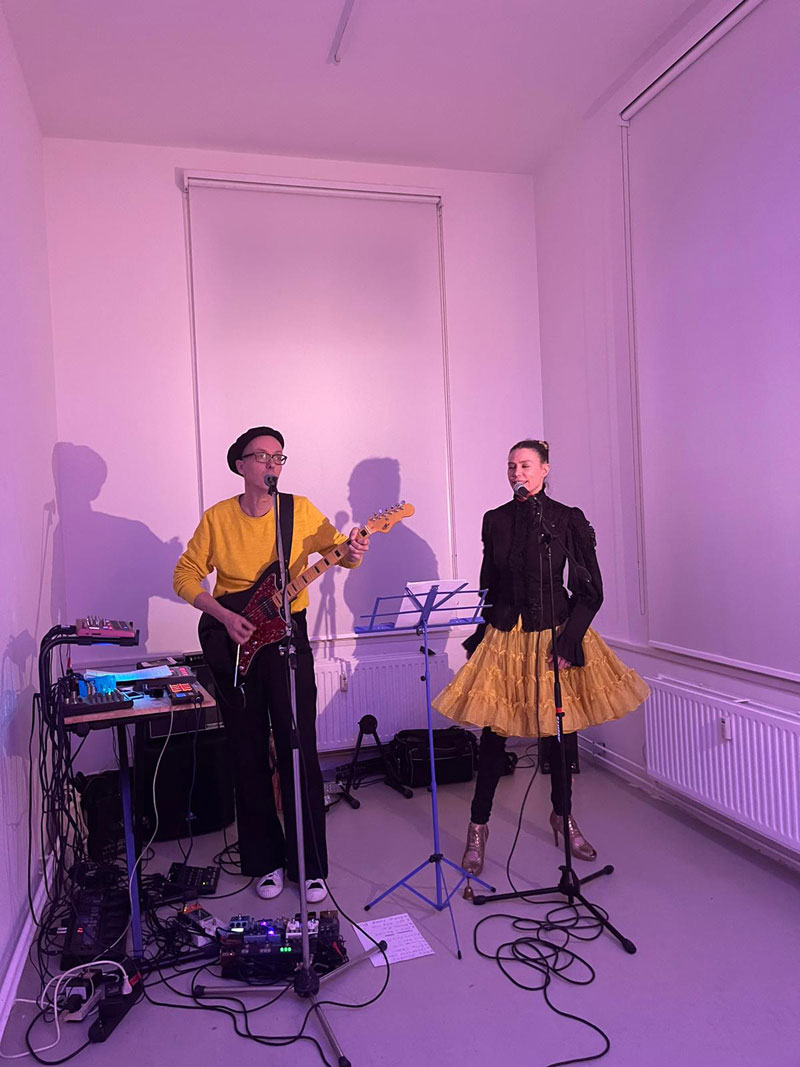 Jay
at sixteen first took up a cheap Yamaha keyboard to re-invent the music he was experiencing through spending a lot of time in record stores, listening to John Peel and late night radio. Born in Hoorn (Noord-Holland), he spend his youth in Belgium, Wageningen and Leiden, before settling in Amsterdam.
That keyboard was OK, but guitar proved to me a much more inspiring, but equally temperamental tool. Jay is a player who cherishes simple solutions over virtuosity to create great dramatic things.  A piercing clean tele twang or washy effect-laden shoegaze sounds are there in equal parts. Holding back, creating space and colouring are the main principles. 
A veteran of Amsterdams nineties indie music scene, Jay put the guitar aside for several years to significantly dabble in electronic music – this took longer than expected, but ultimately physically handling a guitar was the more appealing option. 'I did however learn to appreciate the ethos of working with analog synths and drum machines, meticulously programming tracks, not shrieking back for effective monotony in the buildup of songs. I've learned to appreciate the trance elements in electronic music, although EDM is definitely not often on my playlist.'
 As the principal instrumentalist, Jay writes songs that will refer to fifties and sixties pop repertoire. When it comes to arranging and finding the right hook, both the guitar and the Korg Electribe sampler are the main tools of gear to work with. 'Balancing these two with Sunny Day's vocals is the main challenge but also a constant inspiration.'
Favourite guitar players: 'John McGeoch, Grady Martin, Amedeo Pace.'
First musical love: 'Probably The Specials, I still cherish Do Nothing as much as when I heard it for the very first time.'
Latest musical love: 'Recently discovered Bobbie Gentry. Great vocal, great songs that tell otherworldly stories.' 
Favourite guitar: 'Hmmm tough. Possibly the Ibanez JetKing, that's the one that surprises each time. Or an Epiphone Riviera. Or… or…'